Wedding Pricing
If you're not having a wedding reception see the party pricing at the bottom.
Reception Pricing
Wedding Reception; $495 for the first 4 hours and $50/hr. for extra hours.
Add the Video package for $60.
Lighting and larger systems add to the cost, and travel distance ($1 a minute from Leroy).
We use "Country Pricing" and keep our overheads low. We can also provide music for your ceremony!
Lighting
Add lighting effects to any party. The only exception is outside in the daytime. Our light packages are a one-time fee, added to the standard $495. I've categorized the packages according to the amount of people you expect, but you may choose any.
Small Light Show (under 80 people) - $35. This consists of 2 high-end lighting units with multi-colors or lasers that change to the beat.
Medium Light Show (up to 250 people) - $65 (Gig Bar). This consists of multi Lazer led pars and strobes.
http://www.stagelightingstore.com/Chauvet-DJ-GigBAR-IRC
Both shows are mounted on a T-bar type tripod, reaching up to 10' tall.
Truss Light Package (pictured). The Truss System holds up to 8 light effect units. I recommend 6 light units for $90. Or eight lights for $110.
Video package $60
Subwoffer
For $50 more we add a 2000-watt double 18" subwoffer, not recommended for under 150 people. With the sub the sound system will compare to a live band with a lot of full, deep bass.
Karaoke!
Karaoke is also available as an add-on for $40. I recommend it for grad parties, birthday parties, etc. I feel it is not necessary for weddings, but you be the judge.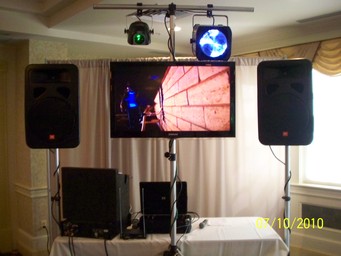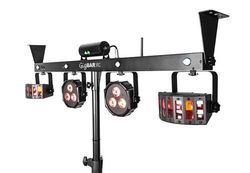 "Gig Bar"
Back in March 2010 I've added Music Videos to my main system. I've purchased over 10,000 videos and receive updates monthly thru Promo Only Videos. I then added a 37" Samsung HD LCD to view them on. It also works great with Karaoke! Just add the Video Package for $60. I don't know of any other DJ or "VJ" in the western NY area!
Not Having A Wedding?
We DJ casual parties for $295 for 4 hours and $40/hr. for extra hours. From birthday parties and graduation parties to pig roasts and Anniversary parties. They take a lot less time to organize and the price reflects! For Schools and fundraisers see the school page.